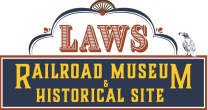 The Board of Directors of Bishop Museum and Historical Society, dba Laws Railroad Museum and Historical Site request the ABSENCE of your company at our NON-EVENT FUNDRAISER!
This event will never take place and you don't have to go anywhere or do anything.
We need your help but not in person  ...so
STAY HOME ~~ KICK BACK ~~ READ A BOOK ~~ WATCH TV ~~ TAKE A NAP
THINK LAWS!
Just look at it this way:
No Raffle Tickets $25
No Rubber Chicken Dinner $75
No New Dress $125

No Babysitter $40
No Tuxedo Rental $100
No Silent Auction $150
Just make a Donation fo Laws Railroad Museum & Historical Site for what you normally spend at your typical fundraiser. AND you will be doing yourself a BIG FAVOR!
Besides that, all of it is TAX DEDUCTIBLE!  Donate Online, or make checks payable to:
Laws Railroad Museum & Historical Site
PO Box 363, Bishop, CA  93515
Need Some more encouragement?