Did you know our church/library was the original Catholic Church in Bishop located on West Elm Street?  The entire structure was moved to Laws in a single piece in 1976.
It is home to:
W.A. Chalfant's personal library (Founder and editor of the Inyo Register and Chalfant Press)
A stunning collection of Joseph Emil "Aim" Morhardt watercolor paintings donated by Mary Jane (Kelz) and Edward C. Kerber,
Art, family histories, musical instruments, books, annuals, and many antiques.
Many items were donated by citizens of the Owens Valley.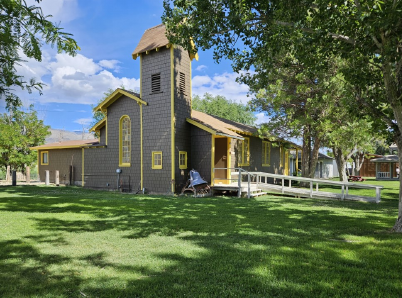 The 100-year anniversary of Father Crowley's Catholic Church, now the Laws Railroad Museum and Historical  Site Library and Art Center, was honored this year with a beautifully executed face lift, with new exterior siding and paint.
Many thanks to all of you whose donations made this Centennial Celebration possible. In keeping with the building's historic role, the library hosted the Calico Quilters' Memorial weekend quilt show in 2023.  The 1923 church building is now also in need of plaster repair and paint for its interior walls: about $13,000 worth, and another $28,800 to make the entrance ADA compliant by replacing the ramp, rails, and steps. We'd like to keep up the good work. Can you help? Please consider designating a donation to the library.