Join other visitors from around the world who have come here to experience this unique museum setting, home of the original Laws train depot and steam locomotive engine No 9. Nearly 50 authentic structures surround you with objects of pioneer life. Visitors can see the actual tools and other artifacts of miners, blacksmiths, railroad workers, dentists, physicians, newspaper publishers and more.
-California Historical Landmark # 953
-Listed on the National Registry of Historic Places by the U.S. Department of the Interior
Laws Railroad Museum & Historical Site is home to many treasures. Some of the most beloved are:
Slim Princess No 9 with boxcars, and caboose No 409  on original track,
Mine & Mill building with functioning equipment,
Death Valley Railroad Brill Car No 5 (see Ride Schedule here)
The Death Valley Conservancy's 20 Mule Team Borax Wagon.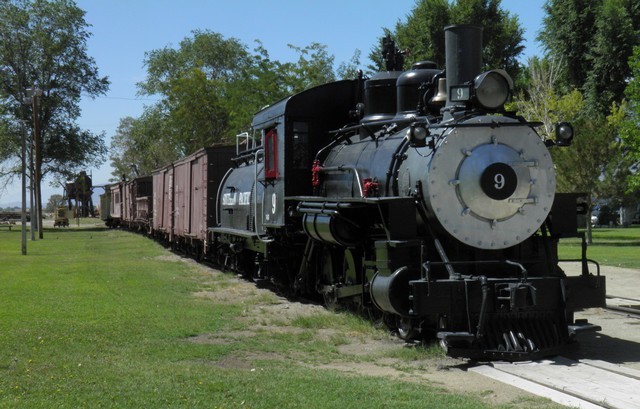 Come and see it for yourself!
Laws is the location of the Bishop Creek Railroad Depot, which grew into a sizable settlement after the first train steamed into the station on April 1, 1883.  In 1900, Southern Pacific Lines had taken over the Carson & Colorado Railroad and renamed the station "Laws" in honor of the railroad's Assistant Superintendent.  The station and its community flourished until the railroad ceased operation.
On April 30, 1960, the engine, lovingly known as the Slim Princess, pulled her last train into Laws coming from Keeler.
Southern Pacific subsequently donated the land, Engine No 9 with boxcars and caboose, and original railroad structures to the City of Bishop and Inyo County.  Local visionaries formed the Bishop Museum & Historical Society in 1964, and area residents immediately began donating entire historic structures along with items ranging from antique pioneer furnishings, old photographs, wagons, farm equipment and mining equipment: --even a working stamp mill. 
Laws Museum continues to accept donations of historically relevant items, making Laws a truly living museum.  Laws Railroad Museum & Historical Site opened its doors to the public on April 1st, 1966 -- 83 years after the first train steamed into the station.
While it was originally mainly a railroad site, Laws had grown into a community center for local homesteaders, farmers, ranchers, and miners. Similarly in modern times, the museum has grown from being a railroad centered museum to a museum focusing on preserving and curating local history in all its aspects.
Exhibits that depict pioneering, ranching, mining, and the railroad provide insight into the style of living 150 to 50 years ago.  Every facet of life is depicted, from outhouses to hair salons, from mining shack to ranch house, from railroad depot to blacksmith shop, from light spring wagon to ambulance car.
A few of the buildings, while original to Laws, do not actually date back to the period.  Some actually originated as a movie set for the 1966 feature "Nevada Smith," starring Steve McQueen.  The Wagon Barn for the 20 Mule Team exhibit is a modern-day replica, built in 2016.
Since long ago when the Owens Valley was inhabited only by native tribes, its history is a complex weave of homesteading, ranching, mining, railroading, hydroelectric generation, and water resources. Innovations from mule freighting, steam ships on desert lakes, lumber harvesting and charcoal kilns, to the building of the 20th century Sierra Highway from portions of the old El Camino Sierra trail,  all enrich the tapestry of this valley in the "land of little rain" just east of the Sierra Nevada.