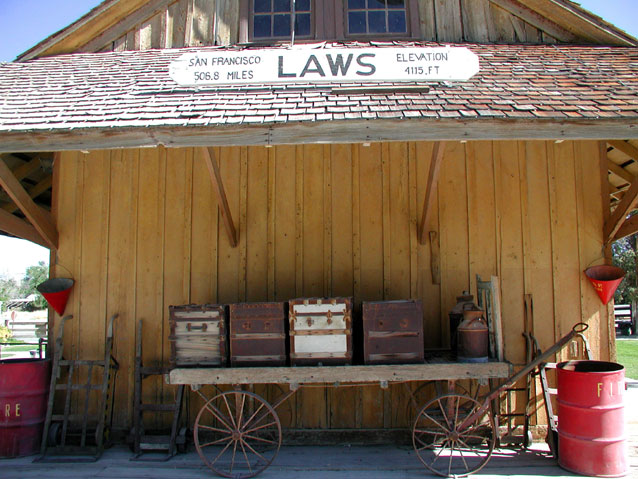 On May 10, 1880, the Carson and Colorado Railroad Company was formed and incorporated by William Sharon, H. M. Yerington and Darius Mills. They planned to run the narrow gauge railroad from Mound House, Nevada, and the Carson River to the Colorado River, calling it the C&C Railroad. It never reached the Colorado River but stopped at Keeler, California.
It has often been referred to as "the railroad that was built 300 miles too long or 300 years too soon" As the word was out that the railroad would run east of the Owens River, people started to arrive at what is known now as Laws. A new railroad town was built. It took 3 years for the rails to be laid from Mound House to Laws, with the first train arriving in April of 1883.
The depot, agent's house, section boss's house, outhouses, water tank and turntable were all ready when it arrived. In addition to the railroad buildings other construction quickly followed which included many homes, barns, and corrals, two general stores, a rooming house, eating house, hotel, boarding house, pool hall and dance hall, blacksmith shop, post office, barber shop, powder magazine and warehouses. Several industrial buildings followed later.
Many ranches surrounded Laws and used the railroad to ship their crops. The decline and demise of Laws and the railroad were the result of the local mines closing, trucking becoming cheaper than rail freight and the city of Los Angeles buying most of the valley for the water rights.
By 1959 when the railroad ceased operation, there was no trace of any of the buildings at Laws as they had all been torn down for salvage. Only the depot, agent's house, oil and water tanks and the turntable survived. All the other buildings you see at the museum today were doomed for destruction locally but were saved by being moved to the museum grounds...
--compiled from the "Story of Laws" by Clarabelle Hawkins, pub. January 1975.
Also see this blog article by Ted Williams:   The Birth of the Laws Museum