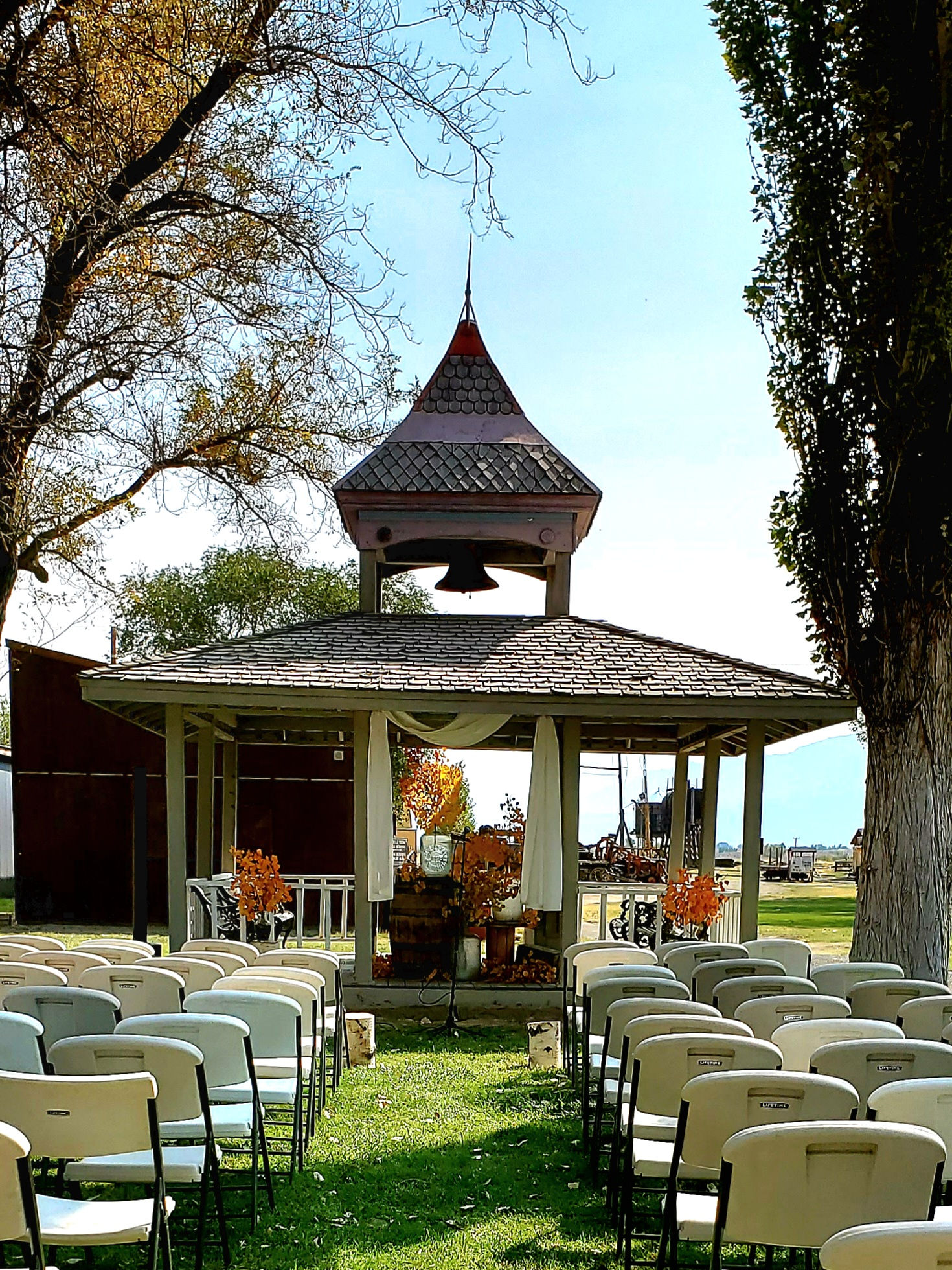 Our Museum staff will work with you to coordinate scheduling, facility needs, and special train rides.
We're here to help make your event a memorable one.
Laws Museum grounds are available for special events during normal operating hours, and are scheduled with the Museum Administrator. Events outside of normal operating hours require special advance notification, and will be subject to additional fees.
Private Party Event Price List:
Large event basic use up to four hours, $1,500.00.
Event use time includes set up and take down.
Additional time over the initial four hours will be charged $300.00 per hour.
Cleanup/damage deposit of $600.00, refundable fully or partially depending upon circumstances.
Clean up must be completed by 11:00 pm.
Table and chair rentals are available: Chairs $3.00 each, Tables $15.00 each.
The Death Valley Brill Car #5 rental, operating crew included, $150.00 per hour, 1 hour minimum.
Union Carbide Mine train rental, including operating crew, $50.00 per hour, 1 hour minimum.
Children's birthday parties are given special consideration and will be handled accordingly.
Small events or private rides on the Death Valley Brill Car #5 or the Union Carbide Mine train aka Old Smoky, are given special consideration and will be handled accordingly. Train rides arranged by calling the Museum office.
Special Event Rules and Requirements:
No Smoking Allowed On The Museum Grounds. Must be STRICTLY ENFORCED by the sponsoring party and announcements made. Museum will supply no smoking signs.
Alcohol Use Policy:  No alcoholic beverages without prior approval. Request for approval must be submitted 30 days prior, as alcohol may require additional security.  All alcohol possession and/or use on the Museum grounds, including parking lot, must be in compliance with California Alcoholic Beverage Control rules and regulations. Sales of any alcoholic beverages on the Museum grounds and parking lot is prohibited except by California licensed vendors.  California licensed alcohol vendors and private parties held on the Museum grounds serving any alcoholic beverages to its guests must provide insurance covering liability and property damage, naming the Bishop Museum and Historical Society as additional insured.  All parties wishing to serve alcoholic beverages at any event held on the Museum grounds must submit a request to the museum fully defining the type of beverages, and the procedure for distribution.  Permission for use of alcohol on the Museum grounds must be granted by the Bishop Museum and Historical Society Board of Directors prior to the event.  The Bishop Museum and Historical Society Board of Directors may place additional requirements over and above those stated in the "Special Events Rules and Requirements" on events making available alcoholic beverages to attendees.
Concessions and Bar-B-Ques:  Types of food/drink concessions and concession site locations must be approved by the Museum Board. No open fire or BBQ cooking.
Children are expected to be effectively controlled by adults.
Cleanup:  Sponsor must see that used areas are cleaned of all trash immediately following the  event. Trashcans must be emptied into the large trash bins behind the restrooms. Large events may pay for additional large trash bins. Tables and chairs must be cleaned and stacked in a designated spot to be picked up by the museum.
Vehicle Parking:  Vehicles park in the museum's parking lot. Vehicles used to unload and load items for the event are allowed on the museum's grounds but must leave immediately after the loading/unloading. No vehicles on the grass please.
Security: There must be adequate arrangements to maintain order during the event. Events cannot interfere with the normal operation of the Museum or its displays.
Liability. Sponsor is liable for damage during the event. Damage will be repaired by the Museum and charged to the sponsor. Deposit will be held until the repair is made. The sponsor may be required to provide additional insurance.