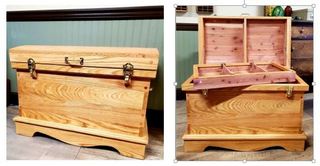 The drawing will be held on Saturday September 25th 2021 at the Curley Fletcher Poetry Rendezvous. Winner need not be present but you will need to return to collect your bounty.
Our long time volunteer master craftsman Gunars E. Sneiders has created this one of a kind maple hope chest with aromatic cedar lining. This is your last opportunity to own one of Gunars chests. At eighty eight years and legally blind this chest will be the last of it's kind. This chest is large enough to store several large quilts or a lifetime of mementoes. The exterior measures roughly 18" deep x 21" tall x 31" wide. The interior has a removable drop in shelf with three adjustable dividers. And it smells heavenly!
This is your opportunity to support Laws Railroad Museum & Historical Site and spoil yourself with a work of art. Tickets are only $5 each or 5 for $20 Purchase your tickets today!
Please make checks payable to Laws Railroad Museum & Historical Site PO Box 363, Bishop CA 93515
Or donate online here and in the special purpose comment, specify that you are entering the hope chest raffle.