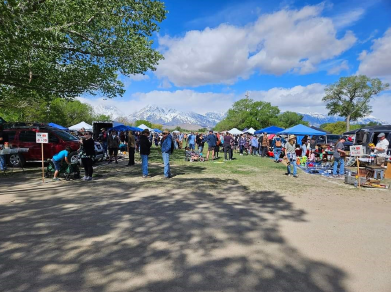 While weather disrupted many of Laws' plans this Spring, it couldn't have been nicer for the May 6th Choo Choo Swap Meet.
The semi-annual swap meet has been a major event in Bishop for several decades, and is now a joint endeavor of and benefit for the Laws Railroad Museum & Historical Site, and the Bishop Sunrise Rotary Club.
Now is the time to begin planning for the next event, which will be held this fall on October 7th.
Be sure to attend and shop the many vendors who are present at the swap meet.
This has proved to be a successful collaboration between two worthy non-profit organizations.  If you want to participate further, you can also support this shared effort by:
Purchasing a vendor spot to sell your wares
Donating items that can be sold at the Laws booth at the event
Volunteering to help our work crews at the next swap meet this fall.
Work dates are Oct 6 and 7 for the Oct 7th event.
Call: (760) 873-5950  or  e-mail   for more information.