Laws Museum and Historic Site is California Historical Landmark No. 953, and is listed on the US Department of Interior's National Registry of Historic Places. Visitors from around the world enjoy this unique setting, where one can experience a physical connection to the old west, and see what life was like in the span of over a century past.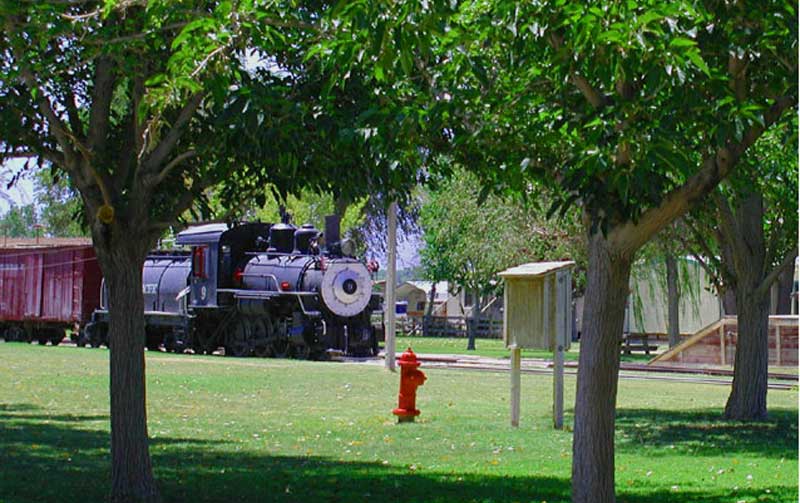 Along US 6, the historic "Grand Army of the Republic Highway", five miles from Bishop at the north end of eastern California's Inyo County, you will find the Laws Railroad Museum and Historic Site. This place will transfer you back to a time when the railroad station was the center of action in western towns.
Train service began here along the narrow-gauge Carson and Colorado Railway in 1883.  Seventy-seven years later in 1960, the last train steamed into Laws Depot.. The station, rail yard, land, depot and other buildings were donated to Inyo County and the City of Bishop by Southern Pacific in 1960. 
In 1964, to preserve what was left of the Laws Railroad Depot and Slim Princess, the Bishop Museum and Historical Society was formed.
People then began contributing  --donating items ranging  from wagons, farm equipment and mining tools to antiques, old photographs and entire structures.
Historic buildings from around the Owens Valley have been moved here and filled with fascinating artifacts.
Nearly fifty structures on eleven acres surround you with objects including the stately "Slim Princess" Engine No. 9, sitting alongside the old Laws Railroad Depot.
The "Slim Princess" is coupled to original boxcars and caboose, with supporting facilities including the oil & water tanks, turntable, and Agent's house.
Our aim is to discover, procure, and preserve whatever may relate to the natural, civic, literary and ecclesiastical history of our area, and to establish and maintain collections.