Hand Car and Velocipede Rides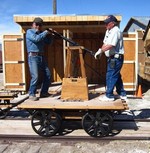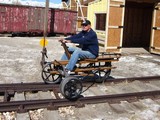 Ride the rails on these vintage human powered machines.
Children 12 and under are FREE, Adults $5 donation.

Available by advance request 

(to make sure we have a helper-crew on hand). 

You must be at least four feet tall for safety reasons

.
For information or advance reservations: Contact Us, or call the museum at 760-873-5950, during the day at 760-920-4006.